Vorsprung tractive valve tuning system / Rockshox Monarch Plus RC3
S4-RS-MONARCHPLUS-VG
---
Free shipping on orders over 150$ *
Low stock - 1 item left

Inventory on the way
**** For a Tractive tuning on your shock, please fill out a work order and send us your suspension ****
Tractive tuning price includes damper and air sleeve service
Features and Benefits:
Improved support
Superior stability and predictability
Improved compliance
Improved traction 
Upgrade compression base valve assembly with triple circuit technology
More usable 3-position compression adjuster with evenly spaced settings
Pressure-balanced valving to provide sensitivity and support without cavitation
Low friction Acetal IFP to replace the stock metal IFP which scores the reservoir bore
Custom Tractive Valve Tuning System tune selection for each rider based on frame, weight, terrain, aggression and preference
Customised rebound valving to replace the stock non-functional rebound shim stack
Over 140 possible valving combinations for this shock alone
Nitrogen charged via low-profile reservoir end cap
All upgrade parts developed, tested and machined by Vorsprung in Whistler
Internal alterations to reduce the typical knocking during direction changes
Recommendations on spring pressure and volume spacer alterations if necessary.
In 2011, before the company even officially existed, Vorsprung founder Steve Mathews had begun work on what went on to become the Tractive Valve Tuning System. Rather than being a single physical part or mechanism, Tractive encompasses the single most comprehensive and consistent method of damper tuning ever seen in the mountain bike world. Working with engineers from one of the world's foremost mathematical computing companies, we have developed a truly one-of-a-kind system - and this particular kit is only the beginning. Big claims, we know. What sets Tractive apart?
Tractive is a process, not just a part.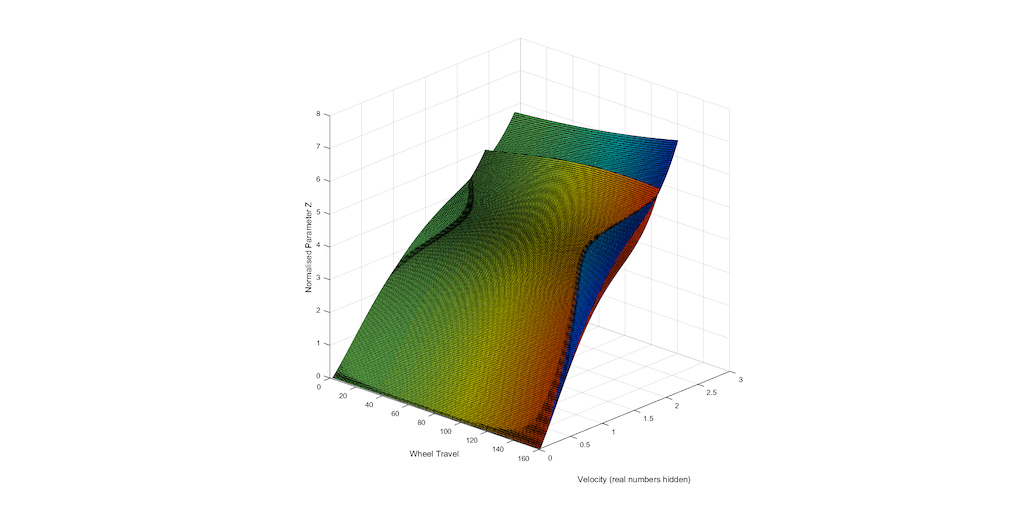 EXAMPLE 3D PLOTS OF VERTICAL WHEEL OUTPUT VS DISPLACEMENT VS VELOCITY FROM OUR FIRST GENERATION CALCULATION SOFTWARE. TWO DIFFERENT FRAMES WITH TWO DIFFERENT DAMPERS ARE SHOWN.
What is the process?
The process begins with the end result that we are trying to achieve with a particular damper curve - it must provide
sufficient, but not excessive
resistance to compression and extension, in proportion to the rider's demands.
How do we define and measure this correct amount? It needs to be measured at the wheel - the only place that matters. But direct measurement of forces and velocities at the rear wheel are very difficult to make - especially when the leverage ratio between the axle and the shock is constantly changing. And is the rider a timid 45kg (100lbs) woman, or a hard-charging 140kg (300lbs) hulk of a man, or someone more "average" in stature?

Our Elite Partner Tuning Centres around the world now have access to our proprietary, cloud-based Tractive Valve Tuning System calculation software. This software lets the tuner observe the true response at the wheel when considering the rider's weight, the bike's leverage rate and the damper curve generated by a specific tune.
Unprecedented Tuning Advantages:
• Direct comparisons can be visualised between any riders, on any bikes, with suitable benchmarks established and repeatably matched - an industry first.
• Our ever-growing database and the ability to directly compare two scenarios like this gives us an unparalleled ability to analyse and summarise feedback over time. 
• Benchmarks are able to shift locally to reflect the different terrain demands in different parts of the world
• The combined experience of your local suspension tuner and Vorsprung's own expertise can be leveraged to get you the best out of your shock



With Tractive, you directly benefit not just from Vorsprung's knowledge, but from the collective experience of all of our partnersaround the world. 

Tractive Valve Tuning Systems are built with the following approach:
Damper architecture weaknesses and problems identified and improved upon with upgrade parts
Damper tunes selected to be the most suitable custom valving for the rider, frame and terrain
Damper adjustment ranges and modes altered if necessary


The first shock to receive the Tractive treatment is the Rockshox Monarch Plus.



Who is the Tractive Valve Tuning System for the Monarch Plus NOT suited for:
Riders who already exceed the maximum rated air pressure of their shock. You need a different shock, sorry!
Riders who want a firmer-than-stock lockout. The Tractive system offers a firm compression mode rather than a lockout for climbing traction, but if a near-rigid lockout is non-negotiable, look elsewhere.
Riders who want to service their damper at home. The Tractive kit for Monarch Plus is not available for self-install or self-service as it requires both a vacuum bleeder and a nitrogen charging system to install. 
Riders who are using the Monarch Plus on a frame that is excessively progressive or otherwise completely unsuited to air shocks. These will work better with a coil shock.
Pricing:
Tractive Valve for Rockshox Monarch Plus - $310 including full service and installation.


How do I make my Monarch Plus a Tractive?
The Tractive kit for the Monarch Plus is not available for self-install, so you'll need to send your shock in to Vorsprung in Whistler, (or alternatively to one of our
Elite Partner Tuning Centres
).
 Follow these steps to get it done:

Place an order through this page to order your Tractive Tune. It will take your address and you can pre-pay for the Tractive Tune and the return shipping.
Take note of your order number, and fill out

 

THIS FORM (opens in new window) to give us the information we need to tune your shock for you.

Ship your shock to us (or drop it to us if you're lucky enough to be nearby

). Shipping instructions can be found

 

HERE.

Email us (steve at vorsprungsuspension dot com) with the tracking number once it's en route to us.
We'll then get everything taken care of and have your shock Tractive Tuned and shipped back to you as soon as possible. If we have questions or other concerns, we'll contact you, and of course you are welcome to contact us with any questions you have.
Compatibility
The Tractive kit for the Monarch Plus works only with the RC3 variant (not the R variant which has no compression lever), model years 2014 to current (versions B1 to B3 in Rockshox nomenclature). These are distinguishable by being all black (damper body/air shaft and air can). Earlier models with the grey air shaft/damper body are not compatible.
---
Free shipping available to Canada only.
US and International shipping calculated at checkout.